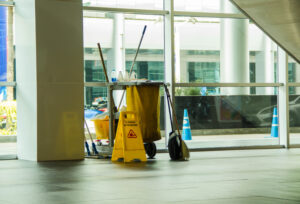 As New Jersey commercial cleaning service providers, we hope to provide the right services and exceptional customer service to our clients at a competitive cost, relieving them from day-to-day concerns and potential issues.
Our team specializes in environmental janitorial & cleaning services for:
Office cleaning

Auto dealerships

Wellness centers 

Medical buildings

Fitness centers

Schools & religious establishments 

Preschools & daycare centers

Healthcare facilities 

Dental offices

Real estate offices

Property management 

Hotels 

Warehouses 

Landscaping & snow removal 
Our services range from keeping the interior of properties sanitary to keeping the outside safe. Below are the many ways our team can keep your building clean and hygienic. Each service we provide comes complete with daily, monthly, and quarterly plans to keep your facility in a steady routine of maintenance. We encourage you to browse each service to learn what we can do for you.
New Jersey Commercial Cleaning Service Options
Who We Help
OFFICES
Keeping your building in the best shape is essential to productivity. The nucleus of everyone's business is their office and DCCS is here to provide a safe, clean office for you, your staff, and clients. To keep you and your employees happy, we go through the proper measures to make the workspace immaculate. All offices are sanitized and disinfected daily. With so many major changes in the social climate as it pertains to safety, a company like DCCS is pertinent for your reputation. As we enter the new norm, having a safe and clean workplace has become a priority for every business owner.
RETAIL CENTERS
DCCS understands how important a clean and safe retail store is to both the customers & employees, whether it's a small mom & pop store, hair salon, auto part store, high-end boutique. Here are some features of our plan
DCCS can customize each contract to fit your establishments' needs to ensure a safe and clean establishment. 

All employees at DCCS adhere to the standards set forth by agencies such as OSHA. 

Our highly trained and well-supervised staff uses state-of-the-art equipment and environmentally friendly cleaning products. 

Our supervisors make frequent on-site visits and are easily reached if you have additional needs. 
GYMS, FITNESS & WELLNESS CENTERS
Our staff is trained on how to clean everything from locker & shower rooms to proper cleaning of equipment. 
Other Industries We Serve
DCCS also serves the following industries. We invite you to explore each link to learn more about our cleaning programs.
Contact Us
We understand how important trust is with a service that demands excellence. You can see the many certifications and afflictions we have here. The next step is getting started. Use the form below, and one of our staff will reach out to you shortly!
Proudly Serving: South Jersey, Camden County, Burlington County, Gloucester County, Salem County, Mercer County, Atlantic County