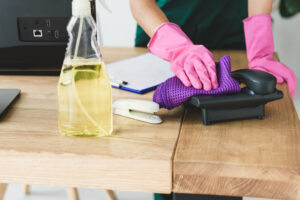 Serving the public for over 20 years, the Pennsylvania commercial cleaning service team at DCCS provides the highest quality service to meet the needs of the commercial janitorial industry at the lowest competitive cost. 
About Pennsylvania Commercial Cleaning Service
Diversified Contract Cleaning Services specializes in environmental janitorial & cleaning services for all types of workplaces, including: 
Office cleaning

Auto dealerships 

Wellness centers 

Medical buildings 

Fitness centers 

Schools & religious establishments

Preschools & daycare centers 

Healthcare facilities 

Dental offices 

Real estate offices 

Property management 

Hotels 

Warehouses

Landscaping & snow removal

Janitorial supplies
OFFICES
The nucleus of everyone's business is their office. DCCS is here to provide a safe, clean office for you, your staff, and clients. All offices are sanitized and disinfected daily.
RETAIL CENTERS
Whether it's a small mom and pop store, hair salon, auto part store, or high-end boutique, DCCS can customize each contract to fit your establishment's needs to ensure a safe and clean establishment. All employees adhere to the standards set forth agencies such as OSHA, which regulates the childcare industry. Our staff uses only state-of-the-art equipment and environmentally friendly cleaning products. Our supervisors make frequent on-site visits and are easily reached if you have additional needs. 
GYMS, FITNESS & WELLNESS CENTERS
Health & wellness centers have become part of almost everyone's routine. We at DCCS understand the importance of a clean & sanitized center. Our staff is trained on how to clean everything from locker & shower rooms to proper cleaning of equipment. We understand that your customers are looking for a quality, safe location, and we use all the proper disinfectants and sanitizing systems.
COMMERCIAL BUILDINGS AND INDUSTRIAL PARKS
Diversified Contract Cleaning services provides services to property managers ranging from 10,000 sq ft to 200,000. We can be your one stop shop for everything from janitorial services to snow removal.
CAR DEALERSHIPS
We understand that this is a six day a week type clean, and involves not just making your showroom floor shine, but your restrooms and offices. Our staff is trained with the best equipment in the industry, and is serviced on precautions to take when working around your expensive vehicles.
HEALTHCARE FACILITIES
Medical Building and Healthcare establishments have always been the backbone of our business and process. We at DCCS offer over 30 years of healthcare cleaning experience to our customers. We have a great deal of knowledge and experience with long-term care facilities and outpatient centers.
HOTELS & HOSPITALITY BUSINESSES
Restaurants and hotels see many customers on a daily basis, and DCCS is here to provide a safe clean environment for you and your customers. All areas are sanitized and disinfected daily. As we enter the new norm, a safe and clean location has become a priority for every business owner.
DAYCARES & PRESCHOOLS
DCCS specializes in environmental cleaning services for the childcare industry.  We provide cleaning services for schools, childcare centers, preschools, elementary schools, private schools, and other educational and healthcare sites.
K-12 PUBLIC & PRIVATE SCHOOLS
Our team also specializes in the management of environmental cleaning and maintenance services for the education industry. Our clients include public, private, religious and charter schools, special needs facilities and other educational and healthcare sites.
Our mission is to:
Provide the right services and exceptional customer service to our clients at a competitive cost.

Relieve clients from day-to-day concerns and potential issues.
Contact Us
We understand how important trust is with a service that demands excellence. You can see the many certifications and afflictions we have here. The next step is getting started. Feel free to fill out the form below, and one of our staff will reach out to you shortly!
Proudly Serving: Philadelphia, Montgomery County, Bucks County, Delaware County, Chester County