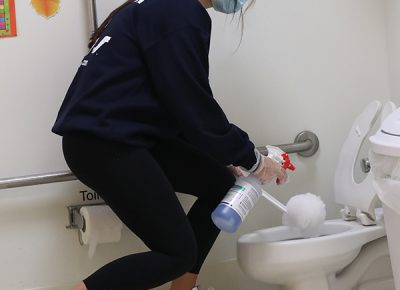 During consultation, we look to see what the current janitorial services program consists of. For example:
Is the location being cleaned daily or weekly?
What types of cleaning products are currently being used?
What types of equipment are being used by the current cleaning company or staff?
Are the microfiber mops being implemented, and are Back Pack Vacuum cleaners with Hepa filters being used?
Most of the issues a facility faces stem from a staff that is not trained, using outdated equipment, and not using a hospital type chemical dispenser. With our services, we can fill these gaps and keep your center safe and sanitary.
The process starts day one on our first day of cleaning your location. Evening hours are the ideal time to have the center cleaned, with an empty facility when staff are home. When a client has low enrollment, having a full-time cleaning service is a great way to help the center advertise.
We would recommend daily light custodial services to ensure that the childcare center is being cleaned. In addition, we would recommend that by having a daily service, it is advertised in the childcare centers marketing program to help increase the enrollment. We recommend that the latest technology products and equipment be used in your center. All products are hospital grade EPA & CDC approved.
About Custodial Services for your business
On a daily basis, Diversified Contract Cleaning Services performs the following light custodial services:
Dust & damp mopping floors
Cleaning and sanitizing bathrooms (includes sinks, and commodes)
Trash removal
Verticle & horizontal surfaces
Dusting & blind cleaning
Windows
carpet cleaning
offices
Furniture fixtures
Breakroom room cleaning
Contact us here to get a quote– we can't wait to get started!