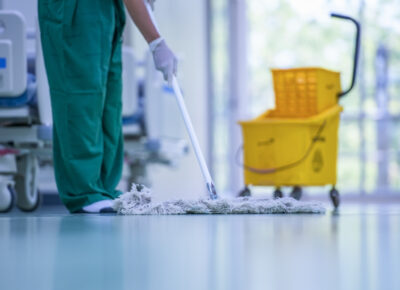 At Diversified Contract Cleaning Service (DCCS) we can answer all of your need for a Haddonfield commercial cleaning service. We offer a full suite of cleaning services for your business, and our mission every day is to keep your facility sanitary and safe at a fair price.
Our staff keeps your property clean with hygienic and environmentally friendly materials, along with proven sanitation methods. Our clients include a variety of industries, including schools, retail stores, healthcare facilities and more. We customize your cleaning services to meet your needs and your budget.
Our Commercial Cleaning Services For Haddonfield Businesses
DCCS provides a range of commercial cleaning services, including:
Janitorial Services – Our staff uses modern equipment and safe cleaning products to keep your place of business clean and sanitized for your employees and customers.
Carpet Cleaning – From spot cleaning and vacuuming to periodic shampooing, we maintain your carpets and keep them looking great. We'll also inspect your carpets thoroughly and let you know when they need replacing.
Floor Maintenance Service – We offer monthly stripping and waxing with our high speed burnishing equipment and six coats of finish to keep your floors' shine.
Infection Control/COVID Cleansing – We keep your place of business disinfected and safe from bacteria with neutral floor cleaner, Virex disinfectant, and non-acidic bowl cleaner. Our cleaning products are free of harsh chemicals.
Construction Cleanups – If you've taken on a big construction project such as a Grand Opening, we can handle the debris removal and cleanup.
Emergency Service – If you're dealing with a dangerous mess in the wake of a flood or fire, call us. We can respond quickly with a board-up, water removal, sewage cleanup, mold remediation and additional safety services.
Landscaping – We'll keep your outdoor space looking nice too, from routine mowing and tree care to sprinkler system management and more.
Snow And Ice Removal – Keep your entrance safe for employees and customers; we'll remove snow and ice from your walkways and driveways, mark your parking lots, melt the ice and help you stay open.
Cleaning Supplies – We're partners with several cleaning supply companies and can keep your place of business stocked with any supplies you need, from COVID-19 PPE to hand sanitizer to floor cleaning equipment and more.
Reach out to DCCS today, and let us be the answer to your search for a Haddonfield commercial cleaning service. Click here to request an appointment and tell us about your cleaning needs. We'll take the cleaning concerns off your mind at a price that your budget can afford.
Interested in cleaning tips, case studies and more about what DCCS can do for your business? Visit our Facebook page today!