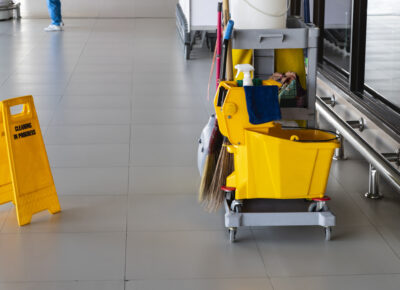 Diversified Contract Cleaning Service (DCCS) is your complete and dependable destination for Cherry Hill commercial cleaning service. We offer a full suite of cleaning and janitorial services for your place of business, and we're committed every day to first class service at an affordable price.
We keep your property clean using safe materials, modernized equipment, and proven techniques. We provide services for a variety of businesses, including educational and healthcare facilities, and we can customize your service to fully meet your needs.
Our Cherry Hill Cleaning Services
Our staff offers a variety of commercial cleaning services for your Cherry Hill business, including:
Cleaning Services – We use environmentally friendly products to keep your place of business looking great, sanitized and safe.
Carpet Maintenance – In addition to our daily vacuuming and spot cleaning, we'll shampoo your carpets on a periodic basis. While we maintain your carpets, we'll inform you if they need replacing.
Floor Maintenance – We keep your floors clean daily, and we'll strip and wax your floors each month with high speed burnishing equipment and high quality finish for a brighter shine.
Infection Control – We keep your premises safe from harmful bacteria with neutral floor cleaners, non-acidic bowl cleaners, and Virex disinfectants. Our cleaning products are green and free of harmful chemicals.
Construction Cleanups – If you've got a big mess from a construction project, we can help. Our staff can handle debris removal and give your property a Grand Opening cleaning.
Emergency Services – We handle cleanups following floods or fires, with quick responses and boardups as needed. Reach out to us for sewage cleanup, mold remediation and other toxin removal services following a disaster.
Landscaping – Our full landscaping service takes care of your mowing, tree care, and sprinkler system management.
Snow and Ice Removal – When the storm hits, we help you stay open…we handle snow and ice removal, ice melt, shoveling walkways and opening your parking lot.
Supplies Delivery – We're connected with supplies distribution partners and can offer you cleaning products and equipment at an affordable cost. We can keep your business stocked with COVID-19 PPE, hand sanitizer, and trash removal equipment.
Find out more today about what makes us your easy choice for Cherry Hill commercial cleaning service. Reach out to us here and request your initial consultation, and let us know your current situation and your cleaning needs. DCCS can provide the cleaning services you need at a price your budget can afford.
Find out more about how to keep your place of business clean and safe…visit our Facebook page today!